About us
To get a good fresh fish in Sweden, unfortunately, belongs to the exceptions today. The fish that Islandsfisk sells is caught and frozen on a fishing trawler about 3 – 6 hours after the fish has reached the deck. This fact plus clean sea – makes the quality of the raw material always at its highest peak!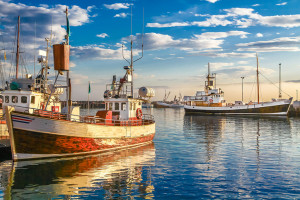 Islands fish is fished within 200 nautical Islands, which are spared industrial pollution , which unfortunately has damaged the Kattegatt, the Baltic Sea and large parts of the North Sea. The situation in these areas is catastrophic and alarming according to Swedish and international marine biologists. Many different chemicals and metals have infiltrated in the food chain in these areas and should not be there at all or exceed the researchers' recommendations. Often the argument is that fresh fish is the best raw material. Yes, yes, it is entirely correct if the conditions are correct. It is the content of the raw material that is essential.
Islandsfisk has devoted itself to serving the individual customer for 32 years – from 1990 when we started – and we find that our service is highly appreciated and fulfills an important function and satisfies our customers' needs for fish. It is primarily fish that is our main raw material and is highly sought after because of the quality.
We deliver four times a year: September, December, March and June. Once an order has arrived via the website or phone, and is confirmed, the corresponding letter or email will receive approximately two days before our arrival, which accurately describes the location and time of delivery in the city we are driving to. We deliver in Sweden as well as Denmark, Germany, Luxembourg, Belgium and the Netherlands. Shipping fee is added at SEK 88 per order.

Seafrozen Haddockfilé and codfilé we sell in 9 and 5  kg packaging. The packaging fits exactly into the freezer and because there is a plastic film between each layer in the package, it becomes easy and easy to loosen the fish fillets apart. 9 kg sounds a lot but it's not as much as you think. If you eat fish once a week and are a family of four people, the fish ends within four months. The fish can actually be kept in the freezer for 9 months without significant quality reductions. Usually, people are finished the fish before we came next time. You have guests or that you simply eat fish more often. About 3 years ago, we started selling fish in 5 kg package Because of A large part of our regular customers have been involved from the very beginning, i.e. 27 years back and it's always fun to meet happy memories and appreciation when we deliver.
Finally, I would like to welcome you as a customer and if you are still wondering, please phone and call.
Med Islands-hälsning:
Gudbjörn Elison,
VD Islandsfisk.